Our Partners
To reduce Energy Consumption and Enhance Efficiency
FOREST POWER & ENERGY HOLDINGS,INC
Our Partners



VOLK FLOW CONTROLS,INC

VOLK FLOW CONTROLS,. Inc., Forest Power & Energy Holdings, Inc. has installed zero leakage severe service valves in over 500 Power Plants which has resulted in increased efficiency, reduced emissions and reduced operating costs. Volk Flow Controls, Inc zero leakage severe service valves set the standard for the new generation of valves.FOREST P&E HOLDINGS,INC

GIANT TORK,INC

GIANT TORK provides a complete range of electric and pneumatic actuators suitable for all types of linear and quarter turn valves. From Houston, Texas, the company markets its products worldwide.
Actuators are increasingly becoming important in process control and adjustment applications with continuous development in all industry fields.
GIANT TORK shares the markets of Europe and America as a major supplier to industries such as Power, Petrochemical, Oil & Gas, Refining, etc.
GIANT TORK's experience not only comes from technical theory, but also from hands-on basic power of development and production. GIANT TORK has rapidly grown into a first class corporation leading the valve automation industry. With a superior quality, excellent performance and effective sales & service support, GIANT TORK is the BEST CHOICE for customers.


Anthis Valves,INC

Anthis was founded in 1971 as a wholesaler of Pipe, Valve and Fittings for the Oil & Gas Industries. In 1991, Anthis was purchased by Earl Cooper and the focus of Anthis changed to Valve Repair and Modification.

In 2010, Anthis was purchased by Forest Power & Energy Holdings, Inc. to build on the foundation established by Earl Cooper to better serve the Oil, Gas, Refining, Petrochemical and Mining Industries and to add other Industries. Earl Cooper continues to serve Anthis along with all the other engineers and technicians having many years of experience in valve repair and modification. The Mission Statement of Anthis Valve Enterprises, Inc. is to provide the very best in industry valve repair and modification with unparalleled Quality and After Sales Service and Customer Support.


KV Engineering Inc

KV Engineering Inc. designs and manufactures a wide range of globe control valves for applications in all industries. The designs are continually being updated and advanced through the combination of feedback from users in our installed base and the work performed on designs and metallurgy by our Engineers in the Research and Development Center.
The valves are manufactured and tested in a modern, well equipped factory using the latest state of the art machines and manufacturing technology. The performance and quality of KV Control Valves is maintained by strict quality control processes in accordance with the ISO certified QA systems and procedures.
KV Authorized Service Centers support the KV installed base through Service Technicians working 24/7 on a 365 day basis. All services, no matter how big or small, can be performed either on Site or in a Service Center.
KV Engineering Inc. provides the most affordable, reliable and dependable products on time, every time guaranteed by the support of Authorized Service Centers staffed with fully trained valve specialists.


TURBO STAR

As a professional manufacturer of seals, TURBO STAR aims to solve the seal problems for industries, thus enhancing efficiency and meanwhile reducing emission.
Major products are:
 Labyrinth Seal including comb seal, double teeth seal, ferrite seal, cutter teeth seal, which can be installed in shaft, diaphragm and tip in the flow passage of steam turbines.
 Honeycomb Seal
Inclined Honeycomb Seal (The Latest Design)
 Oil Shield


FENG'S 5E TECHNIQUE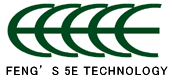 As the general manager of Shanghai Waigaoqiao No. 3 Power Plant and the general manager of Shanghai Shenneng Energy Technology Co., Ltd. also as the licensor of more than ten patents, Mr. Feng invented series of technologies which are called Feng's 5 E Technology:

Ensuring Safety---FCB (fast cut back, run back to the House Load)
Environmental Protection
Energy Saving
Efficiency Preservation
Elevated T-G unit technology
He has published 42 academic thesis and mainly researches on the power generation technology of ultra-supercritical (USC) unit and the energy saving technology of coal-fired power plants.
Siemens has given a high compliment. Dr. Roland Fischer CEO of Siemens Fossil Power Generation stated in his letter that "This concept with the unique chance to significantly increase efficiency is supporting the reform of a high pollution into a low emission green industry", "Siemens highly appreciates this concept. We see it as a consequent continuation of leading coal-based power plant technologies in the world. In case this concept gets a real project, it would make China the world's technology leader for the steam power plants".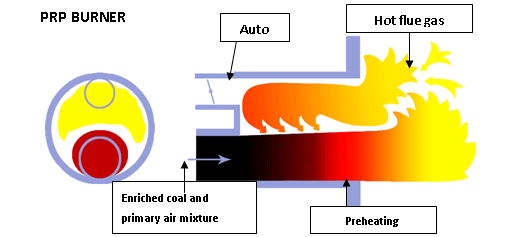 PRP Burner is generated from the full name "Pulverized Coal Rich and Preheating Low NOx Burner", which was developed in 1990 for burning anthracite in China.
PRP burner is a patented technology owned by Professor Jia zhen from Tsinghua University, which has been commercialized to retrofit more than 50 utility boilers, including the W-flame boiler.
The major technique is as following:
The primary air mixed with pulverized coal is heated quickly in the preheating chamber, and the volatile matter is released, which is ignited in a gaseous state, so that the fuel type NOx will be greatly reduced.
The PRP burner is tested strictly by IHI Industrial thermal test, when the initial temperature of the primary air is 90℃, it has been heated to 1100℃ while tested from the nozzle outlet, and the heating rate is more than 26000℃/s.
The auto control function of the PRP burner makes it have high versatile coal adaptability. Coals which have been used by PRP burner include from high volatile bituminous coal to low volatile anthracite.


Our Partners
Goal of Forest P&E Holdings, Inc.
Forest Power & Energy Holdings, Inc. is dedicated to promoting and investing in Energy Saving, Energy Conservation and Environmental Protection Technology.

-CEO